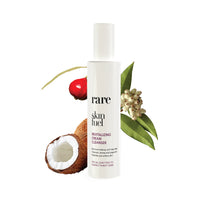 Revitalizing Cream Cleanser
What It is
Why You Need It
Purify your skin with this gentle yet powerful moisturizing cleanser. Our formula is designed to clarify your skin while packing it with nature's finest ingredients – including Aloe Vera, Quandong Extract, and Lilly Pilly Extract.
Provides a deep cleanse, unclogging pores and preventing breakouts.
Replenishes moisture and maintains the skin's natural hydration levels.
Balances oil production, preventing excessive dryness or oiliness.
Nourishes and hydrates the skin, leaving it soft, supple, and healthy-looking.
Suitable for various skin types, maintaining the moisture barrier and preventing over-drying.
Full Ingredients
*Aloe Vera Leaf Juice, *Camellia Oil, *Coconut Oil, Glyceryl Stearate Citrate, *#Glycerin Vegetable, *Jojoba Australian Oil, Cetearyl Alcohol, *Shea Butter, Coconut Water , *#Saccharide Isomerate /Aqua /Citric Acid /Sodium Citrate (Pentavitin), *Glyceryl Caprylate / Glyceryl Undecylenate, Stearic Acid, *Cocoa Butter, Caprylic Capric Glucoside, Acacia Senegal Gum / Xanthan Gum, Lemon Essential Oil, #D-Panthenol (Vitamin B5), #Vitamin E - Natural, *p- Anisic Acid, Lavender Essential Oil, Citric Acid, #Quandong Extract, #Lilly Pilly Extract, Clary Sage Essential Oil, Ylang Ylang Essential Oil.

*Certified Organic Ingredient
# Active Ingredient
Proven Results
+ 95% Improve the balance oil production
+ 90% Deep cleansing without drying out the skin
+ 88% Leave skin soft and healthy-looking



*self-assessment, 88 subjects, 4 weeks
How To Use
Step 1: Apply to dry skin.

Step 2: Gently massage over your face and the areas around your eyes and lips in circular motion.

Step 3: Add a few drops of water to your skin to emulsify the cleanser. Rinse or wipe off directly.

Repeat all steps one more time for optimal cleansing.
RARE SkinFuel is 100% cold pressed Australian-Made skincare products, with extensive certified organic and native Australian ingredients and through a long and complex heat-free blending procedure.