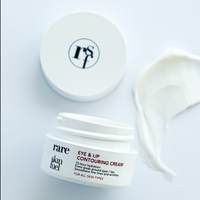 Eye & Lip Contouring Cream
What It Is
Why You Need It
Starring a rich blend of moisturizing ingredients such as Pentavitin, anti-aging wonders such as Resveratrol, and botanical extracts such as Green Coffee Extract, this cream delivers deep hydration for the skin, filling in wrinkles and fine lines for renewed youthfulness while eliminating puffiness for instant firmness and rejuvenation.
size : 15mL
Formulated with gentle ingredients suitable for the delicate skin around the eyes.

Nourishes and moisturizes the skin, reducing dryness and preventing the formation of fine lines and wrinkles.

Brighten the skin, reduce puffiness, and improve the overall appearance of the under-eye area.

Smooth out fine lines, reduce wrinkles, and enhance the elasticity of the skin around the eyes.

Helps firm and tighten the skin, giving a more youthful and lifted appearance.

Protects the delicate skin from environmental damage, such as UV radiation and pollution.
Full Ingredients
*Aloe Vera Leaf Juice, *Camellia Oil, *Coconut Oil, Glyceryl Stearate Citrate, *Glycerine Vegetable, *Jojoba Australian Oil, Cetearyl Alcohol, *Shea Butter, Ethyl Macadamiate, #Hyaluronic Acid, *#Saccharide Isomerate /Aqua /Citric Acid /Sodium Citrate (Pentavitin), *Glyceryl Caprylate / Glyceryl Undecylenate, Stearic Acid, *Cocoa Butter, #Lemon Aspen Extract, Acacia Senegal Gum / Xanthan Gum, Lemon Essential Oil, #D-Panthenol (Vitamin B5), *p- Anisic Acid, Lavender Essential Oil, Citric Acid, #Coffea Arabica (Green Coffee) Seed Extract, #Resveratrol Extract, Clary Sage Essential Oil, Ylang Ylang Essential Oil, Vitamin E - Natural.

*Certified Organic Ingredient
# Active Ingredient
Provens Results
+ 98 % Eyes felt moisturized and hydrated all day long
+ 95 % Immediately revitalized their eye area
+ 90 % Boosts hydration around eye area
+ 94 % Improves skin appearance around eye area


*self-assessment, 38 subjects, 4 weeks
How To Use
Step 1: Apply a generous amount around eyes/lips, especially along the laughter lines.

Step 2: Use your index, middle, and ring fingers to glide from inside to outwards.
RARE SkinFuel is 100% cold pressed Australian-Made skincare products, with extensive certified organic and native Australian ingredients and through a long and complex heat-free blending procedure.