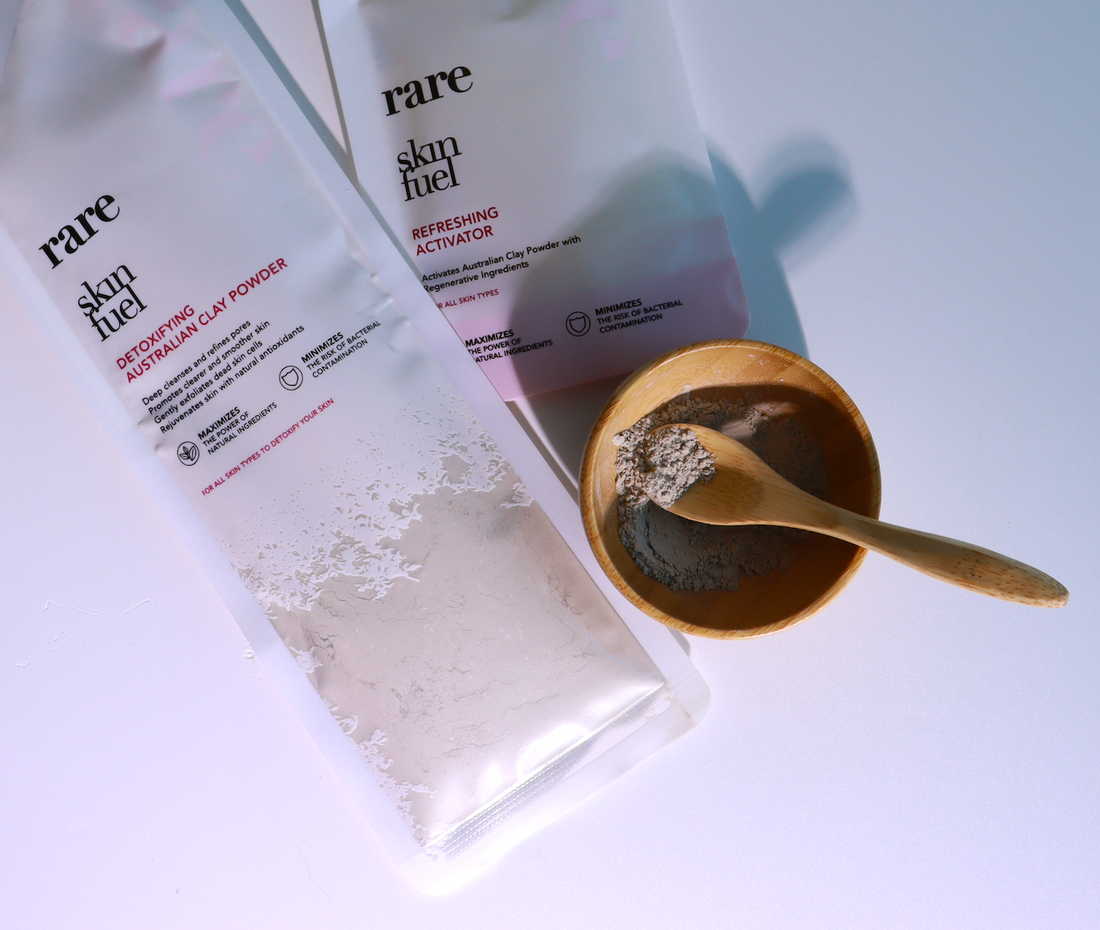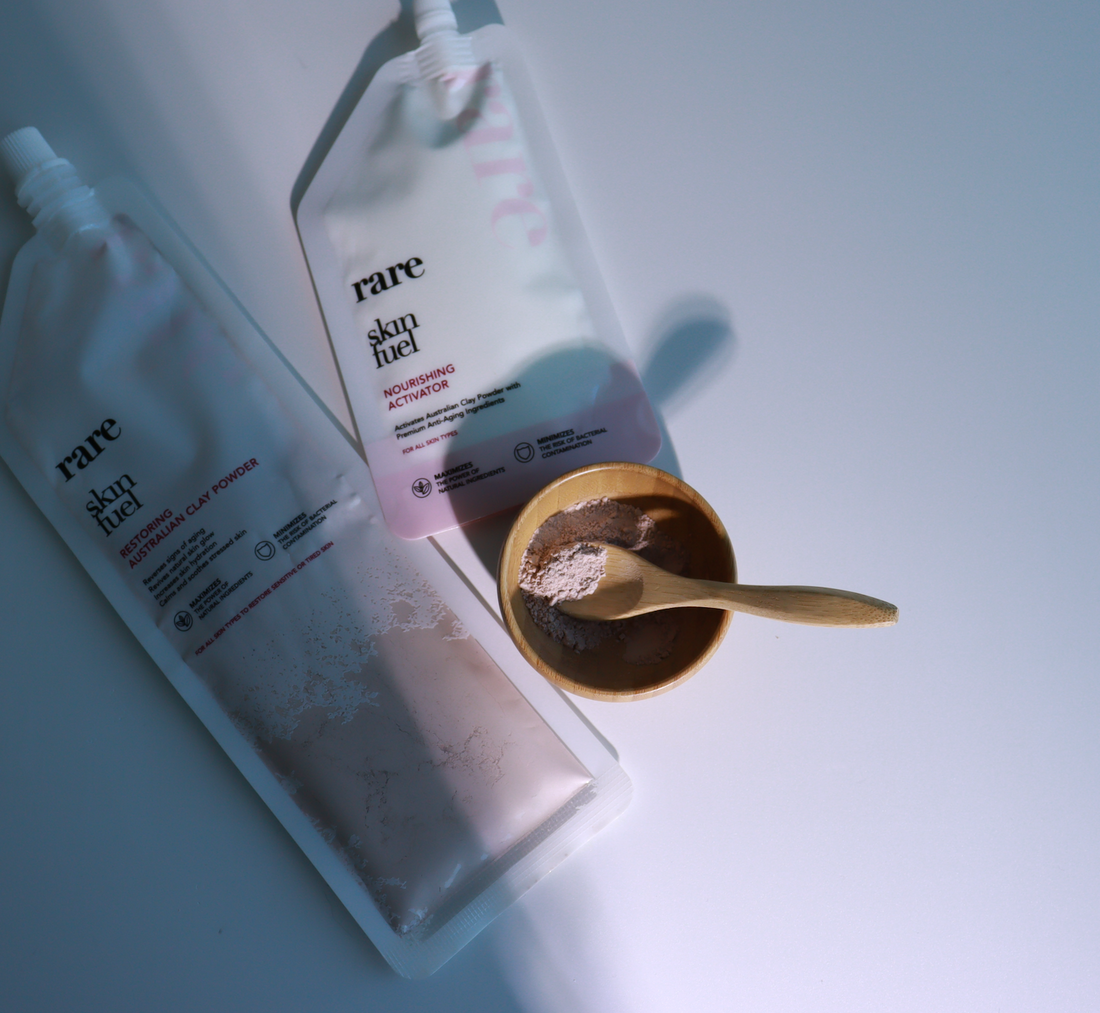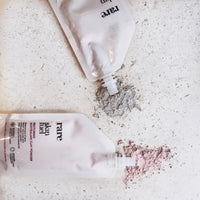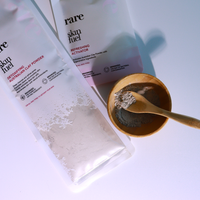 Description
What it is
Why You Need it
Advanced-care, take-home spa treatment for your skin. 
Two facial masks complement each other for an effective spa treatment at home. Both masks use our unique two-compound formula which packages the clay powder and mask activator separately, eliminating the need for synthetic additives and preservatives and retaining the natural potency of the ingredients. 
Kit includes: 
Detoxifying Australian Clay Mask (After Mixing) 100ml 
Restoring Australian Clay Mask (After Mixing) 100ml  
*Mask Powder requires Activators or Activating Mist to Activate. Do not recommend using water to activate the powder as water evaporates skin's hydration which may not deliver the proper result of the powder packs.
Detoxifying Australian Clay Mask 
The mask combines three Australian clay powders to cleanse, refine and exfoliate pores and dead skin cells for clearer and smoother skin. while rejuvenating skin with antioxidants and stimulating new cell growth. It works together with the Refreshing Activator, which contains a selection of natural moisturizing ingredients to calm, cleanse, protect and hydrate the skin 
Restoring Australian Clay Mask 
The mask contains three Australian clay powders and other natural powders to increase skin hydration and calm stressed skin, reversing the signs of aging and reviving the natural radiance of skin. It works in partnership with the Nourishing Activator, which contains a powerful combination of natural ingredients to balance out the drying effect of the clay, soothe and moisturize skin, and stimulate healthy cell growth.  
Give your face a double treat – and then repeat! Once mixed, the mask formula can be stored in the refrigerator and used over and over for up to a month.
Rejuvenate the skin with a quick spritz of RARE's Activating Mist. Formulated with potent anti-aging extracts and moisturizing compounds, this soothing mist is designed to hydrate, tone, calm, and balance the skin while enhancing absorption for subsequently applied skincare products. After cleansing your skin, soak a cotton pad to use this as a toner and then spray it onto the face and body as a mist to feel your skin refreshed and radiant.
Hydrate and replenish moisture in dry or dehydrated skin.
Provide a refreshing burst of hydration, particularly in hot and dry climates or during travel.
Prep the skin for better absorption of other skincare products.
Soothe and calm irritated or sensitive skin, reducing redness.
Set makeup for a natural finish and longer-lasting wear.
Rejuvenate the skin with antioxidants and anti-aging ingredients, protecting against environmental damage and reducing signs of aging.
Full Ingredients
*Aloe Vera Leaf Juice, *#Witch Hazel Extract, Coconut Water, *Glycerin / Aqua / Sodium Levulinate / p-Anisic Acid (Dermosoft 1388), *#Hibiscus Extract, *#Saccharide Isomerate /Aqua /Citric Acid /Sodium Citrate (Pentavitin), #Kakadu Plum Extract, #Lilly Pilly Extract, Clary Sage Essential Oil, Lavender Essential Oil, Ylang Ylang Essential Oil, Lemon Essential Oil, Lactic Acid.

*Certified Organic Ingredient
# Active Ingredient
Proven Results
+ 95% Provides deep hydration
+ 90% Well-prepared skin for next steps
+ 88% Improves dullness
+80% Set makeup & leave skin refreshing

*self-assessment, 52 subjects, 4 weeks
How To Use
As Toner

Step 1: Saturate a cotton pad with the mist.

Step 2: Sweep over clean face and neck.

As Facial Mist

Step 1: Close your eyes and spray directly onto your face.

Step 2: Use as often as needed to revitalize and rehydrate your skin
RARE SkinFuel is 100% cold pressed Australian-Made skincare products, with extensive certified organic and native Australian ingredients and through a long and complex heat-free blending procedure.